Does your system have On-Time Performance Issues?
Based on Arthur Gaudet's decades of service planning and scheduling experience,
this new book presents practical approaches to improve poor OTP.

Chapters include: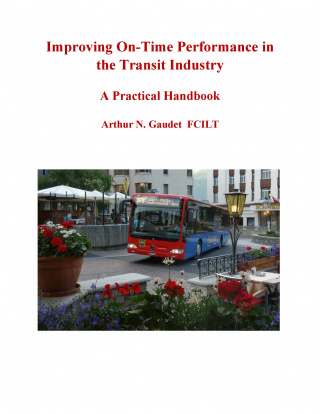 1. What is OTP and Why is it Important?
2. How Did We Get Here?
3. Causes of Poor On-Time Performance
4. Solutions – the Five "Musts"
5. Techniques- How to Achieve the Five "Musts"
Running Time
Recovery
Operators
Equipment (Rolling Stock)
Supervision
6. Costing Techniques
7. Stop-Gap Measures
8. Ramifications and Conclusion
Appendix 1 Service Restoration Techniques
Improving On-Time Performance in the Transit Industry: A Practical Guidebook is now available.
PLEASE SEE THE "BUY IT NOW" buttons at the bottom of this page.
Many systems suffer from degraded OTP -- passengers are late for work or school, or miss doctor appointments
which may result in serious health consequences. Shoppers are late arriving home with groceries.
The book addresses historical declines in transit speeds, in part due to increased congestion nationally.
It discusses methods to improve operating schedules to a sustainable, reliable level;
Operations issues on the street; ways to increase the effective vehicle spare ratio and travel velocity;
costing principles; and service restoration techniques that Supervisors and Dispatchers can use to
respond to service disruptions.
The book is also part of the material used in OTP Workshops, and a copy is included for each Workshop participant.
There are two options for the OTP Workshop. The most beneficial is a customized session, conducted on your property.

Designed as a day and a half to two days, the first day is an interactive session, moderated and guided by Arthur Gaudet,
with the second day available for detailed review and troubleshooting. The Customized, On-Site Workshop is available
for a fixed fee of $8,000.00 (US Dollars). If presented in conjunction with an On-Site session of the Runcutter Course (the same week
or with an intervening weekend), the fixed fee for both is $11,000.00 USD.
The second option is a remote presentation by videoconference. While Mr. Gaudet is certainly willing to travel, some properties
are reluctant to have 5-10 people gather in one room for the foreseeable future. Again customized for your system, these sessions
may lack some of the give-and-take discussion from personal interaction -- but -- internet awkwardness aside, will have the same content,
and include as much review and troubleshooting as can be done remotely. The fee for a remote session of the Workshop is $3,500.00 USD,
or a combined price of $7,000.00 USD in combination with a remote Runcutter Course.
In both combination options, it is better to have the Workshop follow the Course. It is likely that each will have a different set of participants.
The Workshop Outline includes:
Section 1: Introduction, National Perspective, Data Collection, Validation.
Section 2: Causes of Poor OTP, including self-inflicted wounds.
Section 3: Property Specific Report Card -- use of an Excel template to triage the routes.
Section 4: The Five "Musts" -- and methods to achieve them.
Section 5: Costing Principles -- the Three Part Cost Model.
Section 6: Methods to Increase Velocity.
Section 7: Service Restoration Techniques.
Section 8: Recap and Next Steps, report to Senior Management.
Suggested attendees include Managers, Planners/Schedulers, Dispatchers & Supervisors,
Labor/Operator representatives, and periodic involvement of senior Maintenance management.
It is intended as a frank, open, solution-oriented discussion resulting in re-focused effort to improve
service to our passengers.
To discuss OTP Workshops, please contact Arthur at 972-466-4611 or Runcutter@runcutter.com
The book is priced at $50.00 (U.S. Dollars) which includes shipping and handling to U.S. Addresses (Except Texas).

Texas addresses please use the "Buy Now" button below, or email Arthur to order to add 8.25% sales tax ($54.12 including Shipping and Sales Tax.
For orders to Canada, please use the "Buy Now" button below. The book price to Canada will be $50.00 U.S.D, I will absorb the slightly higher international shipping cost.
For Other Countries, please use the "Other Country" button, $65.00 U.S.D. Including Shipping

Click to edit and add HTML code. Personalize your website!
Chapters include: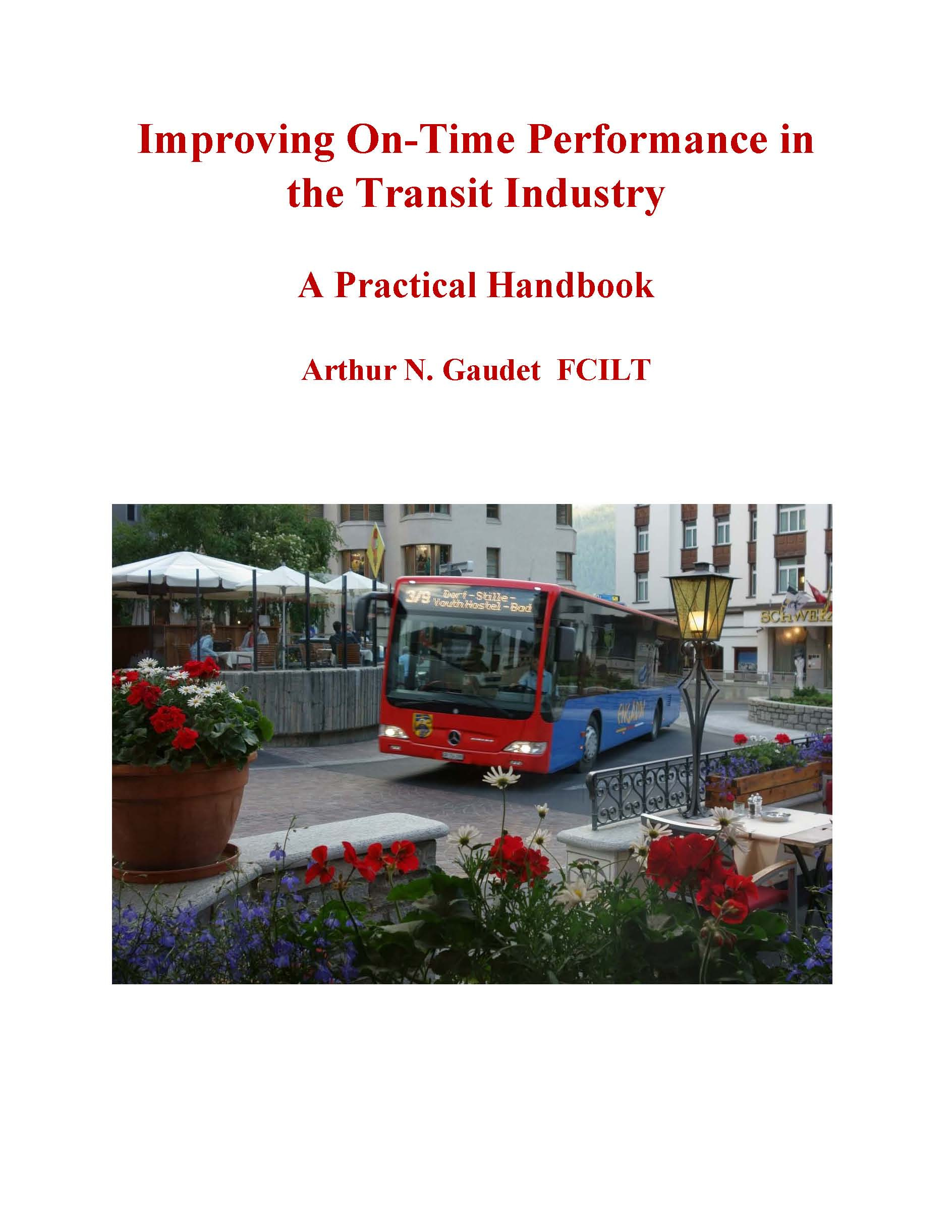 1. What is OTP and Why is it Important?
2. How Did We Get Here?
3. Causes of Poor On-Time Performance
4. Solutions – the Five "Musts"
5. Techniques- How to Achieve the Five "Musts"
Running Time
Recovery
Operators
Equipment (Rolling Stock)
Supervision
6. Costing Techniques
7. Stop-Gap Measures
8. Ramifications and Conclusion
Appendix 1 Service Restoration Techniques