Does your system have On-Time Performance Issues?
Based on Arthur Gaudet's decades of service planning and scheduling experience,
this new book presents practical approaches to improve poor OTP.

Improving On-Time Performance in the Transit Industry: A Practical Guidebook is now available.
Chapters and topics covered are shown below, in the Table of Contents.
Many systems suffer from degraded OTP -- passengers are late for work or school, or miss doctor appointments
which may result in serious health consequences. Shoppers are late arriving home with groceries.
The book addresses historical declines in transit speeds, in part due to increased congestion nationally.
It discusses methods to improve operating schedules to a sustainable, reliable level;
Operations issues on the street; ways to increase the effective vehicle spare ratio and travel velocity;
costing principles; and service restoration techniques that Supervisors and Dispatchers can use to
respond to service disruptions.
The book is also a precursor to OTP Workshops , customized and conducted on your property.
Suggested attendees include Managers, Planners/Schedulers, Dispatchers & Supervisors,
Labor/Operator representatives, and periodic involvement of senior Maintenance management.
It is intended as a frank, open, solution-oriented discussion resulting in re-focused effort to improve
service to our passengers.
To discuss such a workshop, please contact Arthur at 972-466-4611 or Runcutter@runcutter.com
The book is priced at $50.00 (U.S. Dollars) which includes shipping and handling to U.S. Addresses (Except Texas).

Texas addresses please use the "Buy Now" button below, or email Arthur to order to add 8.25% sales tax ($54.12 including Shipping and Sales Tax.
For orders to Canada, please use the "Buy Now" button below. The book price to Canada will be $50.00 U.S.D, I will absorb the slightly higher international shipping cost.



For other Foreign orders please email with your preference for shipping (quickest or least expensive), and I will
get back to you with the final cost.
Chapters include: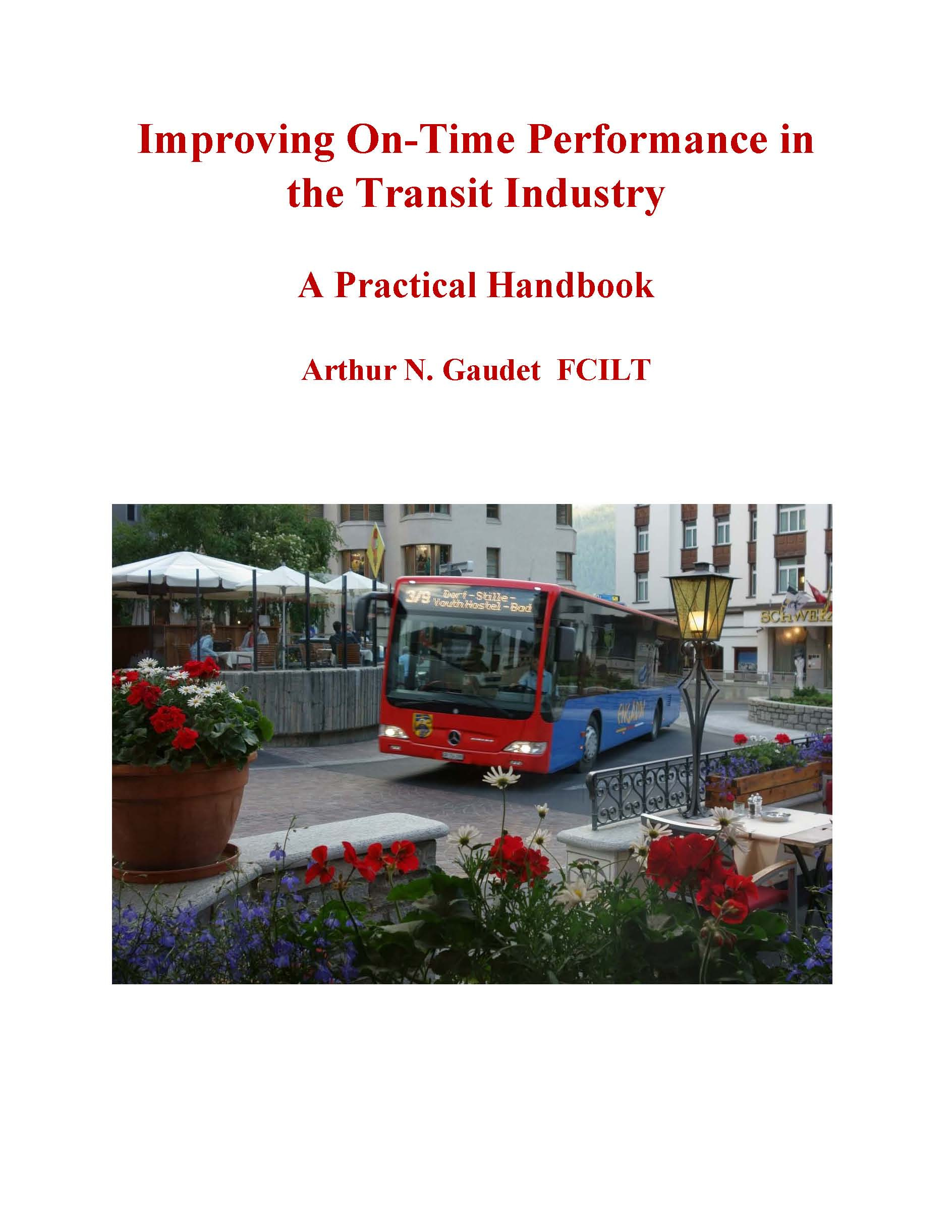 1. What is OTP and Why is it Important?
2. How Did We Get Here?
3. Causes of Poor On-Time Performance
4. Solutions – the Five "Musts"
5. Techniques- How to Achieve the Five "Musts"
Running Time
Recovery
Operators
Equipment (Rolling Stock)
Supervision
6. Costing Techniques
7. Stop-Gap Measures
8. Ramifications and Conclusion
Appendix 1 Service Restoration Techniques